Discount 30%
Catacombs of St Paul
Saint Paul's Catacombs, Triq Hal-Bajjada, Rabat, Malta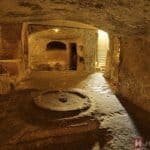 Website Heritage Malta
Serving as a place of burial of the Punic, Roman and...
Description

Serving as a burial ground from Punic, Roman and Byzantine times, the catacombs of St. Paul represent the oldest and largest archaeological evidence of Christianity in Malta. Its association with the saint stems from the myth that this group of catacombs was once linked to the cave of St. Paul. Although it remains a myth, recent research shows that both were originally part of a considerably larger cemetery just outside the ancient city of Melite. Indeed, we know today that the hypogees were located in a cemetery whose history of use dates back to at least the 3rd or 4th century. BEFORE JC. The catacombs form a typical complex of interconnected underground Roman cemeteries that were in use until the 7th, and possibly the 8th century AD. They are located in the region of Ħal Bajjada, also known as Tad-Dlam. The area has more than 30 hypogeums, of which the main complex, located within the St. Paul complex, comprises a system of interconnected passages and tombs that cover an area of more than 2000 m2. The entrance to the main complex leads to two large rooms, decorated with pillars resembling Doric columns, and painted plasterwork, most of which has now disappeared. These main rooms are equipped with two circular tables arranged on a low platform, reminiscent of the reclining couch (triclinium) present in Roman houses. Carved in one piece in the living rock, these triclines were probably used to host commemorative meals during the annual feast of the dead. Part of the catacombs was reused during the rechristianization of the island, around the 13th century, when an open space was cut out and used as a Christian sanctuary decorated with murals.
Reduction

-30% discount on the entrance fee. (Valid in all national museums and temples).
-10% off in the store.
Monday to Sunday (Closed on Good Friday, Christmas Eve and Christmas Day, New Year's Eve and New Year's Day): 09:00 – 16:30